Early in the 2008 season, it was a cold day for a race on this small track. Pit Road was swarmed with cars racing three wide to get in and out of their pit stalls. Activity abounds as the over-the-wall teams jump into action. The crews launch from the top of the wall, just as the race cars come roaring into their pits.
In this 2009 gouache painting, I tried to show a vision of the sport that captures and accurately depicts the complexity and extraordinary sights seen during these extremely active pit stops. Team crews, war wagons and pit signs fill the foreground of the paintings as race cars weave their way through the competition on this small road.
This painting captures the moment in a meticulously detailed rendering. I poured months of passion into creating this one. It is then photographed and beautifully printed on to a 24" x 40" sheet of fine art paper.
The complete printed edition is limited to 2009 signed and numbered Giclee prints. Don't miss this opportunity to own one for yourself.
Officially Licensed Artist of
Image size: 34" X 17.5"
Paper size: 40" X 24"
Unframed Giclee Signed & Numbered Print:

$100
Matted & Framed Giclee Signed & Numbered Print:
$275
(A beautifully handcrafted poplar wood frame. Constructed with biscuit and glued corners, protected with a black lacquer finish. Each frame is custom built to order.)
Unframed Smaller Prints:

NOW AVAILABLE!
ONLY $20
Image size: 15.25" X 7.875"
Paper size: 18" X 11.5"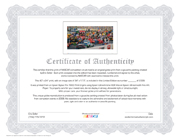 Certificate of Authenticity
included with each Giclee Print.
TO ORDER BY CHECK -
Click Here
Call 704-779-7272