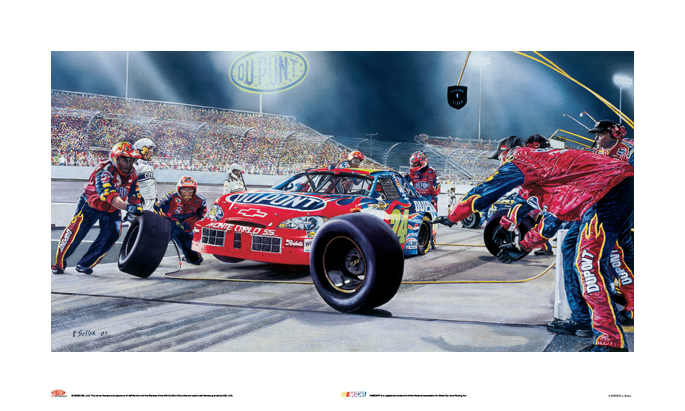 As the DuPont Chevrolet screams up pit road toward its pit stall, the over-the-wall crew anxiously stands waiting in anticipation for the arrival of the racecar. With precise timing, they launch onto pit road as the No. 24 DuPont Chevrolet dives into the pit.
In this 2007 painting, the team is just finishing the right side tire change as they rush to service the left side of the car. The crewman behind the wall prepares to exchange tires with a front tire carrier, doing everything he can to assure the successful pit stop.  The reference photo was caught during an active, smoke filled pitstop where burnouts filled the night sky with the haze of tire smoke.
This original gouache painting captures the moment in vivid detail. The painting is then photographed and beautifully printed onto a 24" x 40" sheet of fine art paper.
Image size: 34" X 17.5"
Paper size: 40" X 24"
Unframed Giclee Signed & Numbered Print:

Not available at this time
Matted & Framed Giclee Signed & Numbered Print:
Not available at this time
(A beautifully handcrafted poplar wood frame. Constructed with biscuit and glued corners, protected with a black lacquer finish. Each frame is custom built to order.)
Unframed Smaller Prints:

Not available at this time
Image size: 15.25" X 7.875"
Paper size: 18" X 11.5"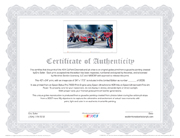 Certificate of Authenticity
included with each Giclee Print.
FOR MORE INFORMATION -
Call 704-779-7272