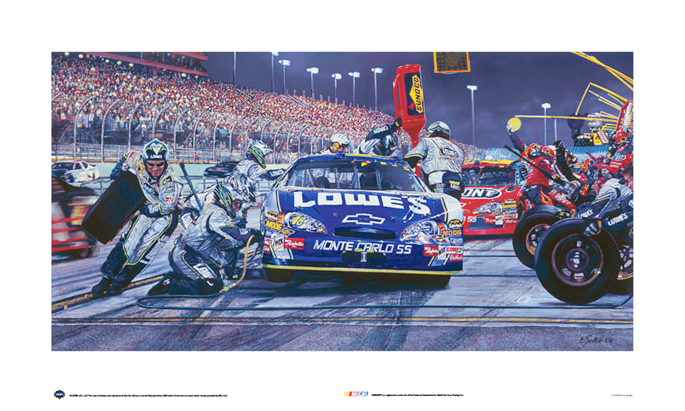 Along pit road during a late season night race, while shooting photos of the action, I captured this image of the No. 48 Lowe's® Chevrolet pit crew performing their magic as dusk was falling on the race track.
When painting from these photos, I try to capture that thrill of the moment with every brush stroke. During this mid-race pit stop, action abounds around the Lowe's® Chevrolet,  teammates and competitors racing along pit road, while the over-the-wall crew changes four tires and fills the tank…all in under 15 seconds!
This moment is captured in a vibrantly colored gouache painting, then photographed and beautifully printed on a 24" x 40" sheet of fine art paper.
The complete printed edition is limited to 2009 signed and numbered Giclee prints. Don't miss the opportunity to own yours.
Not available at this time
Image size: 34" X 17.5"
Paper size: 40" X 24"
Unframed Giclee Signed & Numbered Print

Matted & Framed Giclee Signed & Numbered Print
<
(A beautifully handcrafted poplar wood frame. Constructed with biscuit and glued corners, protected with a black lacquer finish. Each frame is custom built to order.)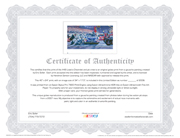 Certificate of Authenticity
included with each Giclee Print.
For more info, call 704-779-7272