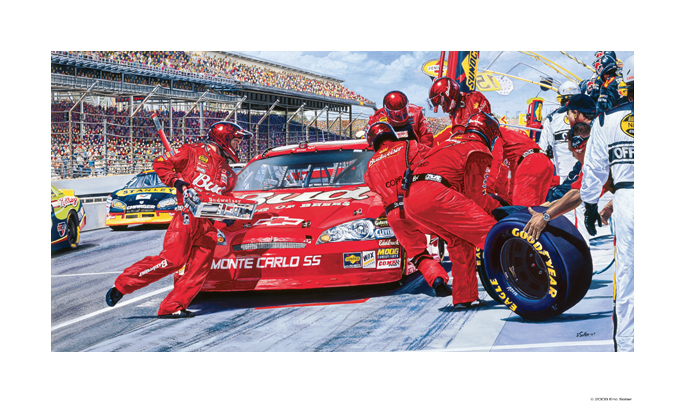 The end of an era. During the final season of driving the No. 8 race car, I caught this great action photo of this intense pit stop by the No. 8 over-the-wall team. Taken at this historic venue during a great mid-summer classic, all the elements came together to make this an awesome painting to develop as it came to life.
Under a beautifully sunny sky, on a legendary track, the choreographed team effort seemed flawless. Tire changers, jackmen and fuelmen encircle and service the race car as competitors race past them along pit road. They are so singularly focused on their task to get the No. 8 car back on the track as fast as humanly possible.
This 2007 gouache painting was a joy to create and remains one of my favorites to this day. The challenge of painting the all red car and team, in such detail and clarity, helped make this image jump off the board and looks fabulous when matted and framed with a beautiful black frame.
Unfortunately, this print is not licensed and is unavailable for sale.
Call 704-779-7272
Officially Licensed Artist of