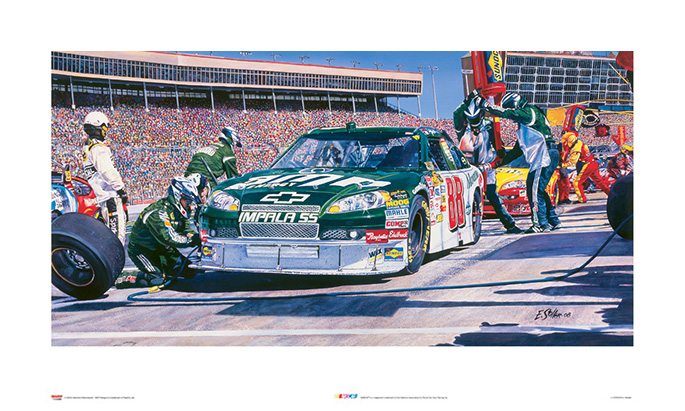 During a sunny spring race, shadows stretch across pit road as race cars dive into their pits. While the No. 88 over-the–wall crew promptly services the car during this lightning fast pit stop, officials dodge incoming cars, while action and excitement dominate the scene.
In this 2008 painting, race cars lined up in their pit stalls can be seen all the way down pit road as they are quickly serviced and race each other off for the lead. The intensity of the moment is captured and felt in the body language and facial expressions of the crew members while the No. 88 car sits poised, like a rocket on the launch pad, ready to take off with wheels spinning, generating a cloud of tire smoke.
This bright and sunny painting captures the feeling of a great race day, caught along a busy pit road, where race cars are lined up like a production line. Each car is serviced to the fast-paced beat of a 15-second pit stop.
This moment is captured in a vibrantly colored gouache painting, then photographed and beautifully printed on a 24" x 40" sheet of fine art paper.
The complete printed edition is limited to 2009 signed and numbered Giclee prints. Don't miss the opportunity to own yours today.
Officially Licensed Artist of
Image size: 34" X 17.5"
Paper size: 40" X 24"
Unframed Giclee Signed & Numbered Print:

$100
Matted & Framed Giclee Signed & Numbered Print:
$275
(A beautifully handcrafted poplar wood frame. Constructed with biscuit and glued corners, protected with a black lacquer finish. Each frame is custom built to order.)
Unframed Smaller Prints:

NOW AVAILABLE!
ONLY $20
Image size: 15.25" X 7.875"
Paper size: 18" X 11.5"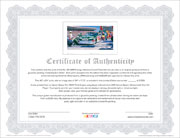 Certificate of Authenticity
included with each Giclee Print.
TO ORDER BY CHECK -
Click Here
Call 704-779-7272